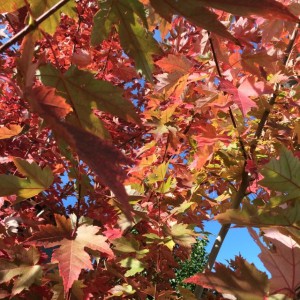 Autumn is nature's time to slow down, pull in, condense and refine. A tree reveals its true colors of red, gold and orange, while drawing its life force – the sap – back into its heart and roots. There, the sap will be stored and strengthened throughout the winter ahead, in preparation for new growth in the spring. Thus taking time to slow down and return to our center is part of the natural rhythm of the fall season.
Take time now to slow your mind and develop a deeper awareness of yourself, of the heart at your center, and then share this awareness with your horse. This can be as simple as spending five minutes on your own in standing meditation and then five minutes in standing meditation with your horse before you ride. Simply be present with yourself and then with your horse – no agenda, no hurry. Know that for five minutes, all you need to do is stand and breathe – just breathe.
First, be sure that you are correctly aligned to allow your skeleton to transfer the force of gravity efficiently into the ground.   Most of us stand with our weight in our heels and our hips pushed forward, resulting in lower back pain and the tendency constantly to shift our weight, trying to find a more comfortable stance. Instead, start with your feet hip distance apart, knees straight but not locked.   Without bending at the waist, push your hips back until your weight comes completely into your heels. Then, without allowing your hips to come forward, flex at the ankles to bring your weight more into the balls of your feet. You will feel like you are leaning forward, almost like a ski jumper – but look at a side view of yourself in the mirror — your ear, shoulder, hip and ankle will be aligned, just as they should be when you sit in the saddle. Spending time standing in this new posture will deepen your awareness of where you want to be on your horse. Pay attention to the weight in each foot. Do you feel heavier on one side than the other? How does that translate into the saddle? Don't try to change anything; just be aware.
Next, begin to allow your thoughts to come and go. See each one as an autumn leaf, drifting past on the great river of consciousness. See them floating by but do not follow them, simply let the river carry them along. Acknowledge them – red, gold and orange – and then let them go. The key is to neither resist the thoughts nor try to stop the river. Inevitably, a particularly pretty leaf will catch your eye and you will find your mind following a thought down the river. When this happens, gently bring your attention back to your breath. If you find that your thinking mind needs a job in order to allow it to remain unattached to your thoughts, try visualizing each breath as it enters and leaves your body and give a color to the inhale and another color to the exhale. This will help access your creative mind, the home of feel and sensitivity.
Do not be fooled by the simplicity of this practice or underestimate its power to transform you and your connection with your horse.   Slowing the mind through the practice of standing meditation is the first step toward cultivating the calm, clear state of mental stillness that will allow you to remain completely present with your own body and with your horse, even while engaged in powerful movement.
Remember, you are not meditating by sitting still for hours in order to empty your mind and transcend your present circumstances. You are meditating for five minutes in order to practice being able to detach from your thinking mind so that as a rider, you will be less likely to be pulled out of your mind/body connection by thoughts and emotions. You can then maintain a state of calm awareness of yourself, your horse, and your surroundings, regardless of what transpires around you. You can be fully present.
Remember, your horse mirrors your state of being. If you are distracted by your thoughts, you will not be fully present with your horse and your horse will not be fully present with you. Emotions are even more powerful in their ability to tear you away from the moment and disconnect you from your horse, sometimes quite rudely and forcefully.
We want to challenge each of you to commit to ten minutes a day of mindfulness: five minutes of standing meditation on your own and five minutes with your horse. This is a deceptively simple physical activity, involving nothing more than standing and breathing. If you can do this, miraculous changes will occur. If not, nothing is likely to change. You and your horse can do this together but your horse cannot do it for you. Nor should this become yet another goal for the coming season. Instead, just do it. Let the autumn leaves fall. Practice slowing down and being present, both physically and mentally, with yourself and your horse. Things will come to you, starting with a deeper awareness of your mind, your body and your emotions and how all three affect your connection with your horse.   The simple is the root of the complex; the physical is the path to the spiritual.